SHARPLEX CANDLE FILTER TECHNOLOGY FOR PTA SOLIDS RECOVERY FROM MOTHER LIQUOR
Current Technologies of PTA Manufacturing
PTA is an important raw material for the manufacturing of Polyester contains Resin, textile polyesters, films and fibres.
The oxidation of Para-xylene to crude Terephthalic acid (CTA) catalysed by metal and bromide is accomplished in acetic aid. The CTA is then purified to obtain purified Terephthalic acid (PTA).
Although there are differences in this technology, as practices by various technology holders and Licensors, the general outline is common to all.
The technology consists of the following major processing steps:
Para-xylene Oxidation
CTA Crystallisation
CTA Centrifugation
CTA drying and dissolution
Hydrogenation and filtration
PTA Centrifugation (Recovery of PTA solid)
PTA drying
PTA solid recovery from Mother liquor
After PTA is purified it is crystallised in stages. Crystallised PTA is separated continuously in decanter centrifuge which are again re-slurried, filtered and washed in a Vacuum drum filters (RVDF) and finally dried. The wash water and re-slurry water from RVDF is reused in process to re-slurry the raw Terephthalic acid.
The filtrate from decanter centrifuge still contain very high of impurities and hence it cannot be reused in the process and therefore, whole stream has to treated in waste water treatment plant to reduce the BOD.
Further, this stream still contains about 0.5% of dissolved TA, which may be up to 1% of the total production. Therefor to recover this dissolved TA, the steam has to be cooled down to make the TA precipitate. The precipitated TA then filtered (In candle filter), re-slurried with acetic acid and reused it. Therefor, there are two signified advantages of recovery of TA process i.e.
1) Operating cost are reduced considerably.
2) The waste water treatment plant size is considerably reduced as TA is already recovered from waste stream.
Sharplex Pulsejet Candle Filter
Sharplex Pulsejet Candle Filter is a pressure vessel fitted internally with tubular filter candle. Typical candle is made out of seven equi-diameter pipes. Each Candle is covered with filter hose in PP or Polyester or PVDF or PTFE. These candles are arranged vertically in a pressure vessel. Each candle is connected to register with positive seal to prevent bypass.
Number of Candles depends on filtration area of the filter. The filtration and cake formation takes place under the pressure. Wet or dry cake discharge is possible by means of blow back. For continuous operation, two filters are installed. The whole cyclic process of fillings, Filtration, washing , drying, Heel filtration, cake discharge can be fully automated.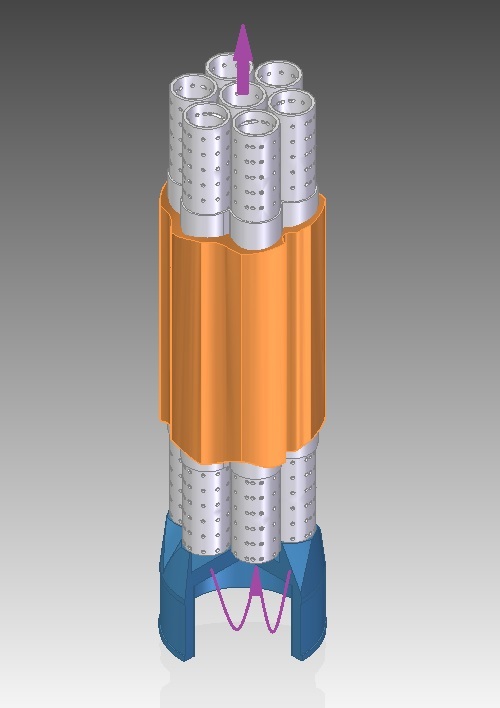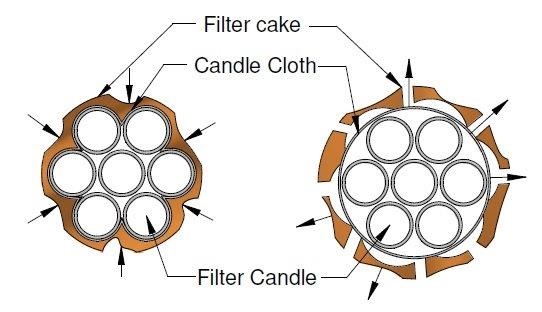 SHARPLEX PULSEJET CANDLE FILTRATION INSTALLATION
SKID MOUNTED FILTER FOR PTA FILTRATION
P & ID FOR PROCESS FLOW OF CANDLE FILTER PTA RECOVERY
Advantages of Sharplex Pulsejet Candle Filter for Recovery of PTA solids from Mother liquor
Very high Filtration rate
No moving parts
Instant blow back of cake from individual registers
Allows higher pressure drops across candle allowing greater degree of clarity of filtrate.
Hose – woven filter media after back blowing gives very clean media maintaining high filtration rates without blinding the cloth.
The synthetic media used gives very high life
25 Years of filtration experience of Sharplex during which more than 2500 various types of pressure filters were sold for various applications in more than 80 countries.
After sales service and Installation assistance is offered world wide
Filtration area's from 0.5m2 up to 200m2 available
Complete filter package – Skid mounted, complete filtration package ready to install which included multiple filters with interconnecting pipings, automated valves, instruments, cabling etc.
Very compact installation
Typical Sequence Steps of Filtration:
The Main steps for PTA solids recovery / Filtration are as follows:
Filling of the filter
Recirculation
Filtration
Back flushing / Slurry discharge
The Filtration period is terminated by maximum pressure drop of maximum time reached or sensing the cake detector.